Submitted by Andrew on Sun, 08/14/2011 - 10:27
This month: skimming stones in Silverdale, turning 40, why Liverpool isn't all bad and how I came to be in a cell at Kendal Police Station......


A great thing occurred in July. After 15 years of driving there on business I navigated my way around Liverpool without a SatNav. This might sound like small beer but to me it was a significant victory. Liverpool has always confused me with its one way systems, ring roads and signs that frequently fail to get me to my destination. I have often found myself lost in some interesting areas (Everton, Toxteth and Kensington to name but three) when I've foolishly followed my nose – something that has served me well in almost every other city, but not Liverpool.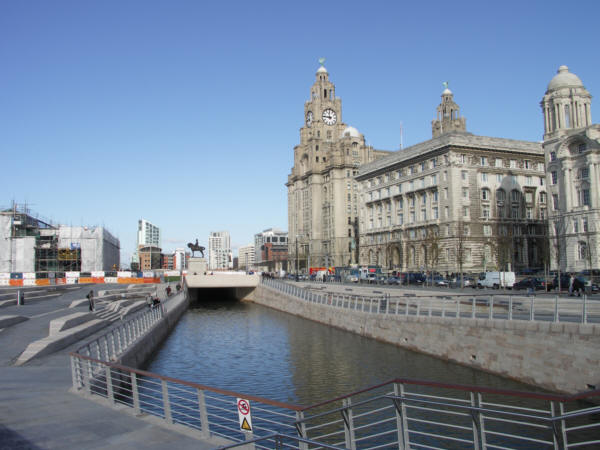 Pier Head, looking northwards, with the Three Graces (the Liver Building, the Cunard Building and the Port of Liverpool Building) on the right.
This new found confidence is well timed as the SatNav is currently of limited use getting from the end of the M62 into city centre Liverpool. The main thoroughfare in and out – Edge Lane – is currently being dug up and rejigged and even my updated TomTom can't get its head around it. I have yet to master the shortcuts and alternative routes that bypass this evil set of roadworks, and doubtless by the time I do they will have finished.
I went to our fourth biggest city several times in July and saw it in its full glory on every occasion. Liverpool is grim when it rains but breathtakingly beautiful when the sun shines. I got to stand on Mariners Wharf and admire the view across the Mersey to Birkenhead. I went to the top of the Cotton Exchange on Old Hall Street where you can take in the stunning panorama of the whole Liverpool Urban Area. I was impressed by the restored Cunard Building and hoped they would give the Royal Liver building a facelift sometime soon. I crossed the canal link and stood on Pier Head and was amazed at how quiet it was. I had a coffee or two in the courtyard at Exchange Flags and wandered through Liverpool One to the Ropewalks and soaked up some culture and creativity.
Oh, and I did some work as well!
Carleton Lane, North Yorkshire
Wheras driving to Liverpool involves a mundane crawl on a major motorway I had the pleasure of taking the scenic route to Skipton to meet with a firm of Architects. Regular readers will know I am a sucker for an adventurous drive through the countryside and I now have the car to go with it. Rejecting the obvious route I took the M6 to Broughton then trekked westwards through Goosnargh, Longridge and Hothersall (great names eh?!) towards Mitton and Clitheroe. Avoiding the A65 altogether I dropped down onto the tiny, narrow Pendle Road heading through Downham and Blacko before cheating and taking the main road to get through Clitheroe. Now the fun really began. The roads became so narrow I could barely get the Audi up them. Treelines turned into full canopies of leaf and branch, blocking out all the light. Passing places, where there were any, allowed nothing bigger than a motorbike to get past me. Onwards through Laneshawbridge and gorgeous Lothersdale until the road opened up and rose to a peak where the views on either side went on for miles. The last road – Carleton Lane into its namesake and Skipton – offered up the most fantastic driving experience I've had for some time. I can't wait to do it again.
I didn't do any driving at all between 5pm on Friday 22nd July and 7am on Monday 25th. The big 40th birthday arrived and exceeded my expectations in every way. I had been largely oblivious to the organisation and build up, consumed as I was with work and work and a bit more work. It was uplifting to walk into the house on the Friday afternoon to find my Scottish friends Dixkot, Oor Wullie and Kelley sat in my kitchen. Over the next few hours' people arrived from Derbyshire, Nottinghamshire, London and pretty much everywhere. Even more met me at the Royal Balti House in Farnworth at 6pm. 20 of us sat down for a curry.
I was gifted bespoke t-shirts: Rush related, but personalised. I was given an inordinate amount of whisky. I also received Ticketmaster vouchers, a personalised pen, even a back scratcher. And cash. I hadn't had a birthday in that way since I was a child.
Me and my sister Caroline on my birthday
The curry didn't quite go to plan but I didn't care. I was surrounded by people I love. They all deserve a mention....
There was Dan, who I worked with in the 90s. There was Simon, who mentored me as a student and taught me many of the bad habits I have today. There was James, who has terrorized and thrilled me in equal measure on a certain Rush-related website, with his marvellous wife Sue. There was Fred Barchetta, who I have only known for six months but is already like a brother (although a bald one). There was Andrew, who is also smooth by day but rock by night. There was Mr and Mrs Egan, the locals who have accompanied me on many a caper, and Mick who has been around for many more. Lucy outdid herself by being the sole attendee from south of Watford. Brother Giles had been around to warm me up a few days previously. James, whom I shall call my tenant, was there – giving the event some much needed polish. Ron and Terr had made the trek from the Midlands even though they were due to go on holiday at an obscenely early hour the next day.
Suitably full – of both food and drink – we made the short trek to the Moses Gate pub to see the mighty Bravado. The owner had been pre-warned and greeted us like the bunch of reprobates we are, allowing me in for free. Inside there were more friends awaiting including the legendary Mr Ass, Summerland and his better half Maria, and good old Zed.
Bravado is a band which plays songs by my beloved Rush. What sets the trio apart from other bands doing the same thing is threefold. First, Bravado plays a host of songs that Rush rarely bother (or can't be bothered) with. Second, they are technically gifted and sound exactly like the real thing. And third, they play with the kind of volume and vigour that really lights my fire. Bonus points to frontman Pod for looking and singing like Geddy Lee. But that's just the icing on the cake.
Talking of cake, they gave me one. It was Presto-related. Rush fans will understand........
ARH40, Chez Hard
After the gig the merriment continued at Chez Hard. I saw the dawn before crashing out for a brief sleep. Saturday was meant to be more sensible but I was already a tad inebriated when I met my long-suffering parents, sister, work mate Mary and her wife Jo and beautiful kids Grace and Sam, plus Carol and her husband Dan and three kids at Frankie & Benny's in Horwich. When Matt and Ellanor arrived at the house a few hours later any chance of a quiet night was well and truly shattered. It was a legendary second evening.
Dawn breaks after the second night, with Matt, Ellanor and Fred
I won't forget the weekend in a hurry. Casualty of the second night was Dan, who managed to fall asleep midway through sending a text message. When he woke up at 4pm on Sunday afternoon he had the temerity to comment that he doesn't sleep much these days!
As July turned into August I took James, Ashleigh and Charley camping at Bolton-le-Sands, just north of Lancaster. The weather had been the usual summer atrociousness so we were mightily relieved to find the campsite not only rain-free but dry as a bone when we arrived on the Tuesday evening. Putting up our mammoth tent, which involves me being shouting at for being useless at tent construction, was accompanied by the first of two stunning sunsets we would enjoy.
Sunset at Bolton-le-Sands
The camp site was on a rolling hill which afforded magnificent views over Morecambe Bay. As dusk turned to night and the kids went off to sleep we marvelled as the lights flickered over Heyshaw to our left and Grange Over Sands to the right. In the distance there was a glow over the port at Barrow in Furness. Behind us was the occasional roar as a Pendolino shot up the West Coast Mainline towards Glasgow. In-joke of the holiday was a tendency to freeze and shout "TRAIN!" every time one went past, in homage to Dug the golden retriever in Pixar's Up.
Arnside & Silverdale
We had one proper summer's day whilst we were up there. On that Wednesday morning we drove round to Silverdale and Arnside, one of Britain's Areas of Outstanding Natural Beauty, walking along the salt marshes and throwing skimmers across the calm waters. After lunch we headed south to Morecambe and spent a couple of hours on the beach. As the sun bore down and gave us all a glow the kids buried each other in the sand, dug holes and made castles. We met up with my pal Simon for dinner at the Station eatery before heading back to the camp site for a couple of whisky's by the fire.
Whilst I had fun during the day with my kids I particularly enjoyed the evenings after my two daughters had gone to bed. We lit the barbeque for warmth, told tales, cracked jokes and laughed into the early hours. "Flame on!" was the cry as we shot lighter fluid onto the BBQ. James drank Fanta Fruit Twist whilst the grown ups (if you can call us that) took advantage of the Jim Beam I'd had given to me for my birthday. I slept so well in the tent. All that fresh air wiped me out.
Morecambe beach
My week off with the kids was great – not just the four day camping trip but the other things we did as well. I wasn't looking forward to going back to work. That first day back was fascinating though as I was given a guided tour round the new Custody Suite at Kendal Police Station, which my company Thomas Barnes & Sons is just about to finish building. For the first time ever I found myself in a cell. The Station Administrator told me it was a veritable palace compared to what they had before. Looking at its cold brick walls, paper thin mattress and the most basic toilet I've ever seen I was more keen than ever not to have to spend any time at Her Majesty's pleasure.
Kendal Police Station Custody Suite
At the time of writing over 2200 people have been or are spending time in cells following on from the rioting and looting in Manchester, London and the West Midlands. I am of no fixed politics, have no allegiance to the left or right, am neither socialist nor capitalist, libertarian nor statist, liberal nor authoritarian. But seeing the feckless, immoral, pilfering, arsonist, criminals made me boil with anger. I wanted to find these people and hurt them, cause them pain and misery. And yet at the same time I was so relieved to live where I do, at least five miles from the nearest trouble spot that day. Because those feckless, immoral, pilfering, arsonist, criminals scare me.
Quick to judge
Quick to anger
Slow to understand
Ignorance and prejudice
and fear walk hand in hand


This month's music:
Robin Trower, Black Country Communion, The Sword, Dennis Coffey, ZZ Top, Helmet, Deftones, Nickelback, Seasick Steve, Limp Bizkit, Sly & The Family Stone, Steppenwolf, Trippy Wicked & The Cosmic Children of the Knight, Clutch, Lonnie Smith, B.B. King, Rush, Black Sabbath, The Outlaws, Joe Walsh, Joe Bonamassa, Slo Burn.
This month's movies:
Paranormal Activity 2, Source Code, Fair Game, Rio, Rango, Goodfellas, The American, Captain America, Devil, Paul, The Adjustment Bureau, Unstoppable, Pulp Fiction, Mesrine 1 & 2.
Pint Half Empty:
Crap weather, still skint, the price of everything, teenagers, getting up in the morning.
Pint Half Full:
Lovin' my job, lovin' my car, lovin' my kids.