Submitted by Andrew on Thu, 03/10/2011 - 21:25
This month: A day in the life of......


Tuesday 8th March
Its 9.30am and I'm sitting on a train at Manchester Piccadilly feeling like death, regretting the accidental "wine interface" the night before. It had been a good night though. For once we'd switched the laptops and TV off and called the kids into the lounge for a game of Risk. Teamed up we were all aiming for world domination. Suddenly it was very late and Zoe was berating me for not knowing or caring about the lyrics to Roger Waters and Rush tunes. She disappeared to bed muttering whilst I chuckled to myself and threw some more tunes on. Next thing I knew she was waking me up on the sofa where I had passed out sometime around 3am.
As the train pulls out of the station I realise that my laptop won't connect to the Virgin trains internet, and even if it will it's going to cost me four quid for an hour or twelve quid for 24 hours. By sheer chance I find a way to connect without paying, by switching rapidly between browsers. I drink Lucozade and take pills and wonder if my head will stop thumping before I get to Euston.
Its midday and I'm walking towards the Tube with a business associate (Ben) who was on the same train as me. We are both going to a networking event on the South Bank called "No Cannes Do", which will be attended by 500 or so construction professionals who haven't persuaded their bosses to let them go to MIPIM ("Marché International des Professionnels d'Immobilier" aka Massive International Piss-Up In the Mediterranean, a property bash on the Côte d'Azur attended by 18,000 of Europe's built environment movers and shakers). I have recovered but the Tube still makes me feel dirty and tired and thankful I don't have to commute in London.
Its 12.15pm and we've arrived at Waterloo station. As we leave the station we are hit by warmth and blinding sun. I'm wearing a thick black coat because it was hailing in Manchester this morning. I hope Ben will walk slowly so I'm not a sweaty stinking mess when we arrive at the "do". My bag feels really heavy even though I have travelled light. We walk along Thames Path and get our first sight of the river and the stunning City skyline.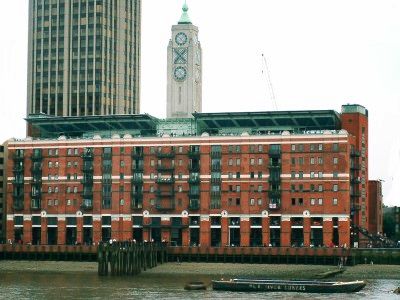 The Oxo Tower
Its 12.30 and we've arrived at the venue, the Oxo Tower. The building was originally a power station for the Post office but got its name when the Liebig Extract of Meat Company, manufacturers of Oxo beef stock cubes, bought it in the early 1900s. We make our way to the 8th floor restaurant (apparently highly regarded internationally though I've never heard of it), have our coats taken from us by large-breasted young blonde women, and are handed a beer by an even larger-breasted blonde woman.
The first pint of Peroni Nastro Azzurro wipes out any remaining traces of my hangover. I stick close to Ben as he seems to know everyone and is clearly a player down here in London. He introduces me to several senior construction people. In each case they try not to look disparagingly at my scruffy hair and beard and having shaken my hand ignore me whilst engaging Ben in name-dropping, matey conversation. I do what I do best and listen. In each case I discover what one of these senior construction people does, think of a client of my company that I can introduce them to or a building project I can involve them in, and then at an opportune moment I drop it into the conversation. In each case, with no exceptions, I am suddenly not the scruffy git anymore – I am a potential source of fee income for them. I am given a business card and invited to call. I know that by the time I get back to Manchester they will have emailed me or added me on Linkedin, and that I will get work out of them in the near future. I am, at the risk of blowing my own horn too hard, really very good at what I do (on a good day!) and at an event like this I am in my element.
Its 2pm and Ben has gone for a piss. I walk out onto the veranda and am really quite stunned by the view. The Gherkin looks Erotic. The Thames is calm. A bloke from a major food retailer's Store Development team walks past so I accost him. Turns out we used to live on the same street in Upper Holloway in the early 80s. I think I remember him being a bullying little shite but am not sure. I tell him why his existing supplier of Quantity Surveying services is crap and he doesn't disagree. We agree to meet when he is next in Manchester. Ben comes back and introduces me to a bloke who is doing work for John Lewis. He asks which retailers my company works with and I say Farmfoods without any trace of irony. He laughs nervously, not knowing if I am joking or not. I am not.
The Scruffy Git at No Cannes Do
Its 2.30pm and I notice I am pissed. I put this down to the most excellent waiter service. Every time I take the last swig of my pint another one appears next to me. This becomes so normal and unquestioned that on the one occasion I empty my pint and find there isn't another one waiting I get huffy with the waiter. The drink is free. The organisers obviously have deep pockets. There are also nibbles being served. They are tasty but not very filling.
Its 3.30pm and Ben is becoming my best friend in the whole wide world, ever. This is strange because I have only met him once before yet I feel a desperate urge to say "I love you man" to him. Some bloke bangs into me and falls over. The first casualty of the day. He is ignored, laughed at or tutted about by surrounding people. He will forever be "Terry from (company name omitted) who fell over at No Cannes Do". I look at the guest list and decide to seek out the most senior construction guy I can find at the "do" and pitch my company to him. Unfortunately it turns out he was Terry Who Fell Over and he is busy trying to rebuild his reputation with the event organisers.
Its 4pm and we are being chucked out of the venue. No bother though, says our host: we've got a bar round the corner for you all to keep drinking in. Oh goody. Ben is regretting telling his wife he will travel back to Manchester tonight and makes his farewells. I try really hard not to hug him or cry.
The Restaurant at Oxo Tower
Its 4.15pm and I'm in the pub. Wheras everyone was laughing and joking in the Oxo Tower I walk in to find a room full of sour faces grumbling. It has taken me 10 minutes to walk 200 yards so they have all been to the bar already. They are uppity because the drinks are no longer free. Hey ho, no problem: I'll buy someone a pint and whack it on expenses. I nearly fall over when I am charged £11 for two drinks and start grumbling myself about London beer prices.
Its 4.30pm and I'm away before I give the company credit card a slapping and get into trouble with my boss. I am staying overnight so head to Monument to meet a couple of lads I went to school with. The fresh air hits me as I leave the pub and I suddenly realise I have no idea where I am. My phone rings and it's a client and I wish I hadn't answered it because I am slurring my head off. He chuckles in that "I've been there" kind of way and I feel better. I stumble across a Tube station and find my way onto a heaving platform. I urgently need a wee. I get onto a crammed train and feel sorry for the woman I try not to breath fumes over.
Its 5pm and I am at Monument and run into the nearest pub and have what can only be described as an "Austin Powers Wee". Evacuation complete, I leave the toilets and realise everyone is staring at me. This has to be the only bar in the Square Mile that doesn't cater for business folk. I look a picture in my suit compared to the shell-suit wearing, cap doffing chavs this establishment clearly caters for. There is a bloke leaning against the bar who has the reddest face I have ever seen. He is clearly in for the duration as the barman serves him and takes the money from a pile of change Mr Asian Glow has left on the drip tray. He mumbles something at me and I ignore him, which makes him shout something similarly incomprehensible but obviously means "don't ignore me, pal". I decide I will take my pint outside and wait for my friends away from the inbreds.
Its 5.30pm and my mate Mike has finally arrived. He takes me to a much nicer hostelry, and one where the beer prices are more akin to the Good Old North. Mike is my oldest friend and it's great to see him. We are joined by Terry, who I've known almost as long but not seen for ages. We slip back into our schoolboy roles of taking the piss out of each other's music taste. We also have moments of being a bit more serious and share pictures of each other's kids. Mike is buying me Jack Daniels and probably having a good chuckle.
Fenchurch Street
Suddenly its almost 7pm and I have a moment of clarity. Somehow I need to make it to Fenchurch Street station and on a train to Essex. Mike tells me how to get to the station but I have forgotten what he said within seconds of leaving the pub. After 5 minutes of swaying, staggering and meandering I summon a taxi only to have the driver bark abuse at me and point at the station which is 20 yards from me.
I get on the train and phone Zoe. I decide to have a loud and inappropriate conversation with her, the contents of which should not really be shared in a blog such as this. And anyways my mum might be reading. Other passengers on the train stare at their newspapers, at the floor or look out the window in that way you do when there is an inebriated person near you. A woman blushes. I can almost hear the collective sighs of relief when the train pulls into the station and I get off.
I think its 8pm. My friend arrives in his car to pick me up. I am still speaking to Zoe. I hand the phone to my friend and I hear Zoe suggest food might be a plan. He takes one look at me and agrees. Chips are procured.
I don't know what time it is now but I am in my friends' lounge drinking ale and watching Arsenal get beaten by Barcelona. I am looking admiringly at a CD collection that contains so much awesome music. I am trying to resist stroking their cat because I don't want my eyes to turn to red, raw pussholes. Time speeds up. Its suddenly 1am and I know they don't really want to be up this late on a school night and anyways I will have to be up with them at 6.30am. I say my goodnights and then....
I don't remember going to bed.